Forbes
Councils Member Chris Roberts wrote in 2021 that
investing in real estate
is an excellent way to earn above-average financial returns while strengthening your portfolio. This sentiment rings true today, especially given the current state of the real estate market. With home prices and mortgage rates steadily on the rise, today's landscape is considered a seller's market, meaning that anyone listing luxury property has a financial advantage. Evolving social climates and job market activity are still driving buyers to purchase homes for relocation or investment opportunities.
Several smart investors have purchased world-class homes and commercial properties to strengthen their portfolios and generate lucrative returns in several key parts of the nation. We will explore thriving affluent areas, the long-term benefits of home ownership, and how current selling trends may influence your home-buying experience!
Defining luxury real estate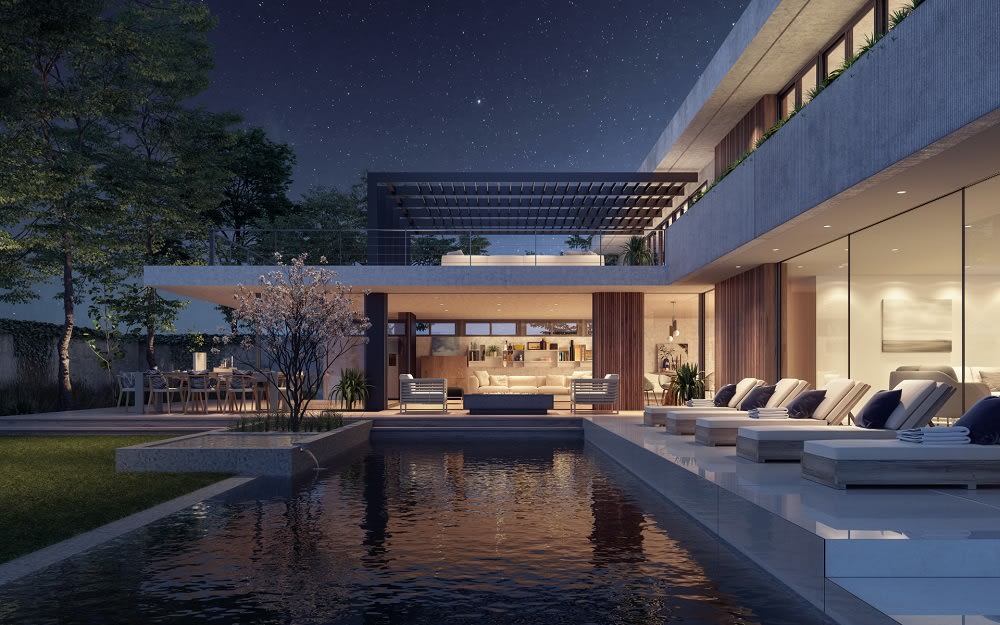 Luxury can be a subjective term. What may be luxurious to one person may not be accommodating or "high-class" by another person's metric. Generally, according to ESTATENVY,
luxury real estate
exists in a "prime location," boasts modern amenities and remarkable square footage, and was designed by top experts in the world of interior design and home layout. The value is usually within the top 10% of properties within the local market, and oftentimes luxury properties carry historical or cultural significance to justify the higher price tag.
To accurately determine if your prospective purchase is considered a luxury home or estate, identify the value and listing price and compare it to other desirable homes in the area. Look for proximity to attractive areas like beaches or private golf clubs, and consult with a house inspector or the listing agent to learn more about the property's history and amenities.
Value in context
The median sale price of US luxury homes
rose 19.8% compared to a year earlier
, and while sales have fallen considerably, luxury home listings are still plentiful. In any market, whether buyers or sellers are projected to benefit the most, luxury homes are sold quickly and lucratively. In an area like Dunes West/Park West, SC, an affluent gated community with a thriving golf scene, luxury homes are always in-demand and priced relatively. Dunes West and Park West are merely 15 miles away from the destination city of Charleston, and their upscale offerings and luscious surroundings attract buyers from out-of-state and in nearby towns every year.
In this upscale neighborhood, homes are valued anywhere from $500,000 to $4 million. Waterfront homes with boating access, and houses near the
Dunes West Golf and River Club,
have greater value and could yield the greatest returns as an investment. Homes for sale in Dunes West entice affluent buyers, and buying desirable property in a thriving neighborhood strengthens your portfolio and increases potential profits.
House flipping
A state like South Carolina contains several mansions in need of a flip. Home flipping has increased in popularity over the past ten years, especially in affluent parts of the Southeast. The nearby city of Colombia was voted the
best city in which to flip a house
, according to News19. Flipping luxury homes puts investors at an initial advantage since luxury homes are typically better maintained and easier to flip.
Once you've found a property with the right location, accessible condition, and just the right amount of upper-class style, you will want to buy for as low of an amount as possible. This will establish the size of your future profit margins. The less you spend initially, the more funds you will have for renovations, upgrading appliances, and marketing your listing once it is ready for move-in. Identify renovations that will increase your home value, such as swimming pools and spacious garages, and incorporate these new additions into your renovation plan. Keep in mind any budgetary concerns or approaching deadlines, and give yourself plenty of time to research contractors, discuss ideas with your development team, and thoroughly clean once repairs are made.


While house flipping is a risk, starting with the right home is the easier way to ensure success on the sales floor. Unique architectural design and prominent natural features should not be impeded or altered, as they give the property character and uniqueness outside of the typical listing. Dunes West real estate embraces the local beach scene and supports luxury amenities like golfing and sailing to maximize the benefits of living in a gorgeous coastal city. Read this accommodating
guide to Dunes West
to find out why upper-class homebuyers flock to the greater Charleston area year after year.
Long-term investment returns
Consistently, when compared to other long-term investments, real estate tops every list as Americans'
preferred financial investment
with delayed returns. Despite a brutal bear market in 2022, the stock market was a close second," remarked Bankrate chief financial analyst Greg McBride last month. Indeed, due to the scale of home renovation, the speed of the real estate market, and the nature of financial returns via rent payments and growth of value, investing in luxury real estate is a long-term game with massive earning potential. Property taxes, HOA fees, and renovation costs add up to one major upfront cost, however, as property values increase and luxury renters occupy your mansion or condo, you will make back your initial investment within 10 years or less. From there, rental payments or a future listing will yield remarkable profits. Homeownership is a preferred investment due to minimal labor, an ever-present clientele, and the consistent value of the owned property, especially in sought-after towns and communities.
Ask the professionals
No one knows more about luxury listings than the incredible listing agents and brokers at Real Estate House International. Take a look at their extensive
portfolio
of upscale homes, and see how many real estate investments are paying off through their listings. Natalie Wright and her associates Jenna Richardson and Alma Lacefield have years of experience in luxury home sales, listing, and appraisals, and their familiarity with the greater Charleston area gives you full local insight.
Contact
the broker-in-charge today to find out how you can improve your quality of life and grow wealth by investing in luxury real estate.